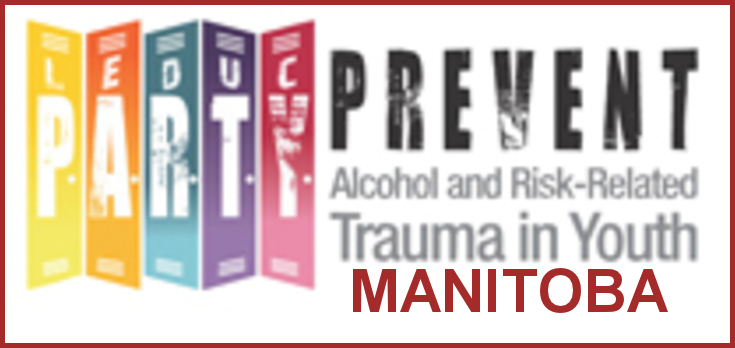 We are pleased to have the support of the Winnipeg Regional Health Authority and the Manitoba Public Insurance in the delivery of the Prevent Alcohol and Risk-related Trauma in Youth (P.A.R.T.Y.) program to high school students across the province.
If your high school would like to participate in this one day, experiential program, contact us today.
Program description
Acquired brain injury is the leading cause of death and disability for Canadians under the age of 35. There is no cure for brain injury, only prevention. High school is the ideal time to teach young people how to recognize risks and make informed choices about activities and behaviour. Students at this age are beginning to become more independent, are learning to drive and many experiment with drugs and alcohol.
P.A.R.T.Y. objectives
Increase awareness of risk and personal responsibility for choices
Increase awareness of the impact of serious injury on quality of life
Reduce the incidence of risk-related trauma
Program outline
Students participate in a day-long experience at a medical facility where they follow the painful journey of a trauma patient, from pre-hospital care to rehabilitation.
A number of health and safety professionals as well survivors make presentations to students about the following:
Recreational drugs and accidents (Fire and Para
Emergency and Intensive Care Unit tours
Rehabilitation students experience wearing braces, and other injury-related aid devices used by those with brain injuries
Survivor presentations
MBIA also stages an annual mock car crash in both Winnipeg and one other Manitoba location. The dramatic event shows students the potential results of driving while impaired, without a seatbelt, or while speeding.
Students witness actors and rescue personnel in the aftermath of a collision. A number of individuals and organizations voluntarily assist to create a realistic crash scenario including:
Police service traffic divisions (WPS and RCMP)
Paramedic Association of Manitoba
Chapel Lawn Funeral Home
https://www.mbia.ca/wp-content/uploads/2013/08/oie_DozVWWJGQcYp.jpg
348
735
mbia
https://www.mbia.ca/wp-content/uploads/2018/10/mbia-logo-wide-5-300x170.png
mbia
2013-08-06 11:37:08
2018-10-30 16:24:00
P.A.R.T.Y. Program